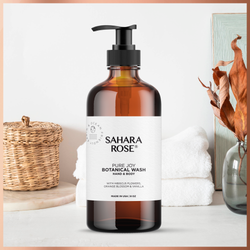 SAHARAROSE
Botanical Hand & Body Wash
SAHARA ROSE hand and body wash is made with nourishing organic oils and is enhanced with uplifting essentials oils and plant extracts. This wash elevates your routine and leaves your skin feeling soft and healthy.
This Hand & Body Wash is earth and ocean-friendly and is made with recyclable refillable amber glass.
MADE IN THE USA
DISCLAIMER: These statements have not been evaluated by the U.S. Food and Drug Administration. This product is not intended to diagnose, treat, cure, or prevent any disease. Please consult a healthcare provider if you have any questions about a particular health condition.