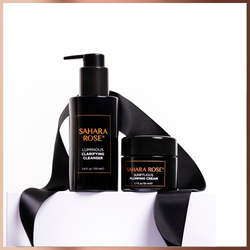 SAHARA ROSE
Merry & Bright Radiance Duo
Elevate your skincare routine with the "Merry and Bright Radiance Duo," a harmonious blend of two exquisite products - the Sahara Rose Luminous Cleanser and the Sumptuous Plumping Cream. Our Sahara Rose-inspired skincare collection is thoughtfully curated to offer you the ultimate path to a luminous, youthful complexion.
Sahara Rose Luminous Cleanser: Experience the gentle embrace of our Sahara Rose Luminous Cleanser as it delicately removes impurities, setting the stage for a refreshed and revitalized complexion.
Sumptuous Plumping Cream: Our Sumptuous Plumping Cream offers a velvety touch of luxury, enriched with Sahara Rose essence. It provides deep hydration and leaves your skin with a supple feel, promoting a naturally dewy radiance.